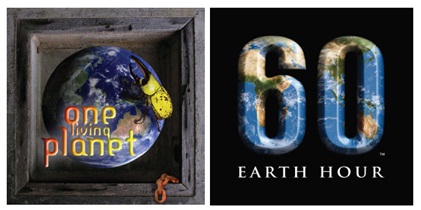 Earth Hour 2010 – 27 March 8.30 – 9.30pm
What is Earth Hour?

Earth Hour is a worldwide campaign that aims to educate the community about the threats of climate change, informing individuals and businesses about the difference they can make by reducing their emissions at home and in the workplace.Earth Hour started in 2007 in Sydney, Australia when 2.2 million homes and businesses turned their lights off for one hour to make their stand against climate change. Only a year later and Earth Hour had become a global sustainability movement with more than 50 million people across 35 countries participating. Global landmarks such as the, Sydney Harbour Bridge, The CN Tower in Toronto, The Golden Gate Bridge in San Francisco, and Rome's Colosseum, all stood in darkness, as symbols of hope for a cause that grows more urgent by the hour.

Cairns Regional Council, Ergon Energy, GBRMPA, WWF, WSPLincolne Scott and Hot FM will once again bring Earth Hour to the Cairns Region.

Earth Hour, Every Hour 2010 – "One Living Planet" is the local theme selected by the Earth Hour partnership in Cairns.

The theme for entries must fit under one of the following categories.
What do you think makes life so excellent in FNQ? We have come up with the "Big 5":
1. keeping our families safe and healthy
2. keeping the rainforest and reef
3. keeping our tropical lifestyle
4. keeping our clean water
5. keeping our culture.
.
The Video Project and How To Get Involved

Earth Hour offers the community the opportunity to express their views on climate change and sustainability – and to get funky and creative in the process.

People of all ages and all levels of experience are encouraged to enter the short film competition. All entries must be accompanied by a completed entry form and adhere to the Conditions of Entry.

An Earth Hour event will be held on 27 March 2010 at City Place featuring family entertainment, public artworks and a screening of selected video competition entries.

What Earth Hour Will Do With Your Entries:

Selected entries will be posted to YouTube and need to comply with YouTube format requirements: QuickTime .MOV, Windows .AVI, or .MPG files—these are the most common formats.  YouTube specifically recommends the MPEG4 (Divx, Xvid) format at 640×480 resolution with MP3 audio.

The Prizes
Selected entries will also be screened at the Earth Hour event, and will be in the running for some great prizes from local companies.

They Include:
A new Flip Mini digital Compact Video Camera from the Focus Reef Imagery Centre
2 Double Passes – Cruise for Two and Full Day at Green Island with either a glass bottom boat or snorkel tour with Big Cat Cruises
1 Double Pass— Wilderness Cruise & Crocodile Farm Tour with Crocodile Explorer
1 Double Pass for a Sunset Cruise with Crocodile Explorer
Prize categories include the most creative; best message; funniest; most inspiring.

.
Entries are due: Fri 19th March. Entry forms can be downloaded from:
www.cairns.qld.gov.au or
www.theradio.com.au or directly here
Entry Form – Word Format

For more information contact Annaliese Walker earthhourfnq@gmail.com
After the numerous environmental debacles and not much good coming from some recent programs here in Australia (for more info, Solar Panel Risks and Roof Insulation Deaths. I have decided to break my rules and get on my soap box here. We are pretty positive that these theories will apply in most places around the globe. First I need to educate some of the bureaucrats and ministers that exist around the world in some basic business.

Business Profits = (Gross Sales Price) – (Cost of Sales). This may seem obvious to most of us but it seems to be lost to many people we vote for. So how does this tie into environmental programs. Well the businesses installing the green solution and the installer both follow this simple equation to put food on the table for themselves and their employees. Below is a generalization so my apologies to those and some of my personal friends that are doing the right thing. So this means installers will buy readily available materials and sometimes the cheapest. The company or household purchasing the item will also shop for what they deem the most cost effective. We must make the latest most efficient technologies green and affordable.
So let's get to the meat of what we can do to fix the problems, while creating a better planet and economy.

1. We all know that a snowball does not stand much of a chance in an oven. So let's stop spending so much money on proving it will melt and work on cooling the oven.

2. Pure research labs come up with concepts that may or may not work they need to engage with engineers and manufacturers to get the product to market. Make funding dependent on that process.

3. Assist manufacturing companies to turn their processing green and to deploy the latest environmental solutions. Fines imposed for not hitting targets are passed onto consumers and the largest companies get the best advantage by being able to hide a smaller amount in more units, even though they maybe the biggest polluters.

4. Publish several key factors; the amount of known environmental pollutants created in the manufacturing process. The amount of pollutants saved per year over conventional products. Letting the public making informed decisions.

5. Have strict standards that ensure only the most efficient products both in their manufacturing process and ongoing savings are eligible for the incentives or rebates.

6. During this whole process the world will need to train and educate everyone from the manufacturers to the installers and consumers on the best use of these products. Include in the incentives guidelines for training and requirements to make sure this process is safe and the most effective.

7. Fund central inspectors and trainers to ensure standards are met and best practices learned and redeployed through the industry. This funding must be included in the original budget for at least the length of the project to ensure compliance and the best outcomes for everyone.

8. Consumer rebates should be consumer rebates, consumers having that control will assist he government with some control. If the consumer isn't happy they call the government inspector, if he isn't happy the installer will have to rectify the issue before he gets the rebate amount.

9. Constant reviews of new technologies being deployed with all advisers required to declare publicly any conflicts of interest. Yes, I know, now I have crossed the line. But skeptics are a good part of any scientific process, we need independent scientific reviews and not just hidden associations that are blown out of proportion.

10. Embrace those willing to be the guinea pigs with the new products and allow current regulations to have leeway, understanding that many of the regulations existed before we knew what a solar panel was.

There are lots of things that are not in the above list but it covers the principles of what we are all trying to achieve.
OK, stepping down from the soap box now. This will be the last time, well probably not. Maybe there is an off chance that someone who is a bit smarter with a bit more influence then me may take up this fight.
Understanding the reef and the ecosystem that it is part of brings a much better fulfillment to each dive or snorkel that you partake in.  Every reef is slightly different and the marine life and coral formations can vary a great deal with reefs just a few miles apart. Going with an operator that knows the reef and the ecosystem is a definite pre-requisite to getting the most out of every time you hit the water.
A basic understanding the life-cycle of a coral reef helps you understand what you are seeing take place in front of your eyes. Coral form in different ways in different parts of the world and each location may have it's peculiarities due to tides, currents, temperatures and a myriad of other factors. So it is best to dive with a local expert and someone who cares about the reef that you are diving. There are plenty of predators and destructive forces that prey upon the corals that make up the beautiful underwater landscape. This is a natural part of the life-cycle of a reef and is why you will see parts that appear dead or like rubble. The healthier the reef, the higher the percentage of coverage of coral, however there always needs to be some areas that are not covered so new corals can take hold and grow as part of the reef. Much like a tree needs a break in the forest to get sunlight to grow, often a larger tree must die and fall for this to happen and the life-cycle to continue.
The fish, turtles, sharks, starfish, rays and other marine life that surround reefs are also part of the balanced ecosystem. Local knowledge and educated staff can tell you the role each of them play. Are they are predator? Do they eat algae? Do they eat the coral? Do they filter water? Each of them have their special place in the ecosystem. This balance needs to be maintained to keep the worlds' reefs healthy and vibrant for the next generation. The healthier the reef the more resistant it is to any disease or adverse impact it may suffer. Feeding fish while it may make your dive or snorkel more exciting as after periods of time marine life will flock to the area, it upset the balance that the reef has taken generations to reach.
So on your next trip study a bit before you go and learn about the area and ecosystem you are about to visit.  You may even learn something the local expert has yet to discover. Then choose the tour carefully to make sure you get the most you can out of your experience.
Coral Sea Dreaming has had her engine replaced with a smaller more fuel efficient engine to improve carbon emissions and performance. The new engine is also quiter for a more enjoyable cruise for those times when we do have to use the engine.